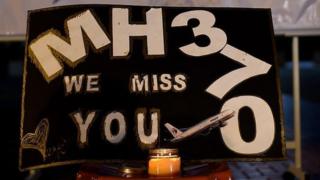 A private salvage company has resumed the search for flight MH370, hoping to find the plane that mysteriously disappeared in 2014.
US-based Ocean Infinity will not get paid for the search itself but receive millions of dollars if successful.
The flight fell off radar on 8 March 2014 en route from Kuala Lumpur to Beijing, with 239 people on board.
Its fate remains shrouded in mystery and the search operation for the plane was suspended in January last year.
How did MH370 disappear?
The Malaysia Airlines flight took off for Beijing and should have flown on a north-eastward route over Cambodia and Vietnam, into China.
A few hours into the flight, the plane stopped sending communications, and the little information there is suggests the plane turned west and started flying south.
Tracking data released by the Malaysian authorities appeared to confirm that the plane crashed in the Indian Ocean, south-west of Australia.
What's been found so far?
The search for MH370 was one of the largest surface and underwater searches in aviation history and involved Australia, Malaysia and China.
The massive operation covered 120,000 sq km (46,332 sq miles) at an estimated cost of about A$200m (£120m; €133m), before it was suspended in January 2017 after 1,046 days.
Although the underwater search turned up nothing, small pieces of debris from the plane were washed up on islands in the Indian Ocean and on the African coast.
Why was the search called off?
The Australian-led search was scheduled to end in January 2017.
By that time, the underwater drones and sonar equipment deployed from specialist ships combing the Southern Indian Ocean had turned up nothing.
Although new analysis towards the end of 2016 suggested the plane might be further north than the original search area, the hunt was not extended.
How is the new search operation different?
Ocean Infinity has leased a Norwegian research ship for the search. According to media reports, the vessel carries several autonomous submarines hoping to be able to search much faster than the last operation.
The search will also be conducted in a much smaller area identified by the Australian Transport Safety Bureau. The 25,000 sq km (9,700 sq miles) area is to the north of the earlier search zone in the southern Indian Ocean.
The US company has not revealed the estimated cost of the operation.
The firm is operating the search on a centuries-old model known in the salvage industry as "no cure-no pay" - a type of deal common in the recovery of valuable sunken cargo.
Under such a deal, Ocean Infinity would shoulder the cost for the search and only get paid if it does indeed find the plane.